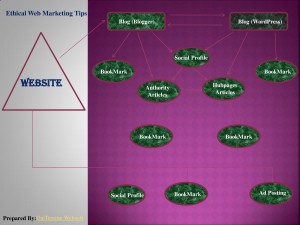 This is an era of web marketing. In the present world, it is impossible for a business to survive in the competitive market without web marketing. It advertises and markets efforts which use a particular web and email in order to drive direct sales through various channels such as electronic commerce. The main aim of web marketing is to make sales through the website. Ethical internet web marketing is going to be the new norm. Applying some good ethical standards to the online marketing world is a true reflection of a business.
Ethics impact all aspects of a business. The first thing it influences is the brand image of a company or business. It is important to review how sales, advertising methods, marketing are applied to the task of making profits for the company or business. Ethics also have influences on the employees who are assigned to promote the business online, in person, via phone and all other customer services. It influences customer relations when dealing with buyers, engineer, sales and marketing leaders in both B2B and B2C businesses.
What should be effective ethical web marketing tips? Well, let's have a look at this infographic for some relevant tips.
Blog:
Blog is a short informative content regarding a particular business. The topics discussed in the blog should be relevant to the products or services offered by the business or company. The content of the blog should be correct and unique. These blogs should be posted in the blog section of the website (two medium of blog posting are blogger and WordPress)
Social Profile:
Social profile is the most useful marketing tool. These can be a key to build a strong digital footprint. The blog posts should be shared in these social profiles as well to draw attention of more visitors which will be really beneficial for expanding the business.
Book mark:
The web pages are made bookmarked at social bookmarking sites to get a backlink for the search engines. The standard backlinks help to better blog traffic and Google page rank.
Apart from these, the authority articles and Hubpages articles also help to increase the traffic and better the ranking. These tips are really effective to get a high rank in Google search engine.
Uniterrene Websoft helps you with innovative and beneficial ethical web marketing services. Contact now to explore new ideas about web marketing: enquiry@uniterrene.com